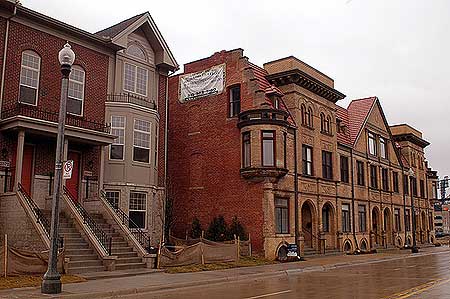 After all, it's only one of the most segregated city in the entire nation. Good place to bury the word 'nigger'.
Don't get me wrong--I love Detroit. I freakin' LOVE this city. I love its history, its industry, its dirty streets and poorly clad prostitutes. I love its parks and its lakes and its grimy skyline. I love its large population of wealthy and affluent Jews who do not hide their Jewishness. I love the buildings, these megalithic burnt-out ruins. I love party stores and Faygo pop and Vernor's root beer and Woodward Avenue. Detroit Rock City! It is not the mean, horrible place that your mothers and fathers warned you about. It is a lonely, sad place. Detroit is the pretty prom queen that got hooked on drugs. She's pretty nasty to look at up close, but she still has pride. There's still a spark in Detroit.
Here's what I don't love: a city still divided by 8 Mile. A city torn asunder by corrupt politicians and hapless tax men. Detroit is a city feeling the aftershocks of pervasive, destructive, immoral racism. And it's still going on today, with 33 metro-Detroit schools slated for closing and jobs disappearing left and right. For every home standing in a Detroit neighborhood, there are seven more homes on the same street that are falling down, dilapidated, inhabitable and yet still lived in. Who lives in those homes? Let's be completely honest--black people!
On my street in trendy, Yuppie-entrenched Royal Oak, there is not a single black family. I can almost guarantee you there are no black families on either of the streets surrounding my street. I have to go two miles south to 9 Mile before I can find some more color in the rainbow. Don't mistake me! We've got a whole barrage of Iranians across the street from us, and their cousins own the liquor store and the gas station in downtown Royal Oak. Up in Birmingham, Sephardic Jews are milling around with Sicilians. I'm pretty sure Polish people are allowed to live in Berkley, and everyone from Kentucky is allowed to live in Madison Heights. I fit right in with Royal Oak with my unmistakably American looks. But I can't find a damn black person for the life of me. Dammit! I need some soul!
I'm glad to hear of the death of 'nigger'. I hope its cousin 'nigga' passes away someday, too. But while we bury those words, why don't we bury these deserted streets and old racial epithets? Why don't we knock all these sad ghosts over and plant a community garden? Why don't we erect neighborhood safe houses in the place of stale nursing centers? Why can't we bury the riots of 1967 along with all of the history of racism and keep only the lessons alive? What--besides stupidity--is stopping us?
R.I.P., N-word. I'll believe you're dead and gone when I see this country return Katrina victims to New Orleans, when I hear someone apologize to Detroit, when Atlanta becomes the capital of the South, when Africa is returned to her children, when we stop saying to one another in our very white circles "Well, slavery ended over 150 years ago! You'd think they would be over it by now!". I'll believe you're dead and gone when we recognize that hip-hop IS an art, and many geniuses erupt from urban streets. I'll believe you're dead, n-word, when God reveals herself to be a black Jewish lesbian with an afro and one hell of an attitude. Until then, I think you'll be haunting us.
But don't worry, n-word. We've got our crucifixes and our history. We'll keep beating you down until you don't get up anymore. And we'll resurrect this city of brokenness, and bring her back screamin'.